Archives | June _ August 2007
---
---
29 August 07 : Janet @ St. Louis ball?
The Associated Press reports that Janet and celebrities like Ashanti, Ruben Studdard and Erykah Badu planning to attend on Nelly's and Jermaine Dupri's own version of a Black and White Ball in St. Louis sunday evening.

"The formal gala, where guests dress in black and white, may feature play of new Nelly tracks like "Wadsyaname" and live songs by Studdard, though last year several guests gave impromptu performances by night's end. Nelly has a reputation for bringing star-studded events to the city. Dupri doesn't have St. Louis ties, but is co-hosting the event as the two men are friends."
((many thanks to.. Janet Online for this news))!!
---
28 August 07 : Janet Attends U.S.Open
---
15 August 07 : "Why Did I Get Married Photoshoot"
Here for You cute picx of Janet with actress of her new movie role (click oln the picx to see more big)!!
---
Janet fotos rares
here somes janet rares fotos sorry but for the moments we have just this small formats
(Many thanks to.... Xone1 from...... Janet friends forum)!!
---
14 August 07 : Official "Why Did I Get Married" trailer released
The trailer for Janet's new film, "Why Did I Get Married?" has been released. You can view a high quality version of the trailer
at "The Yahoo Movies Page" or watch the trailer below.
---
06 August 07 : Janet spotted dining in Miami last night
Janet was seen dining last night in popular South Beach restaurant Nobu..(All The Picx in our gallery)!!
((Source.........Concreteloop.com))!!
---
03 Aug 2007 - Teaser poster for 'Why Did I Get Married?'
The first teaser poster for "Why Did I Get Married?" has been posted on ComingSoon.net.
The website is reporting that the film will be released in the US on October 12. Previous reports had said it would be released on November 16.
---
23 July 2007 : Janet At The Party For Playboy Magasine
Janet attended Playboy Magazine's August 2007 issue release party last night at the Chakra Asian Cuisine & Lounge in Miami.
The event was hosted by record producer Scott Storch, who has been working with Janet lately on tracks for her upcoming album. A portion of the proceeds from the event went to the Pimp My Wheelchair charity..(All The Picx in our gallery)!!
---
06 July 2007 - Janet on Tyra Banks Show
On Wednesday July 11, 2007 Tyra Banks spends the hour sharing the best interview moments that never made it into the shows.
In this special show we will see that Tyra invited a woman to her show who said that her love for Janet gave her the strength to live when she was on the brink of death. While she performed her favorite Janet song for the audience, she became speechless when Janet herself surprised her on stage.
The show will air on Wednesday July 11, 5:00 PM EST (please check your local listings).

(many thanks to... Conny for this news
---
05 July 2007 : Janet & Jermaine Chill in Miami
Janet Jackson and Jermaine Dupri enjoyed their Fourth of July down in Miami. The couple took turns videotaping each other and hit the water with the jet ski's. Word is, Janet is also in town recording a new album..(All The Picx in our gallery)!!
---
June 28th, 2007 : Janet Jackson and longtime lover Jermaine Dupri leave a coffee shop in Beverly Hills on Wednesday morning after having an early breakfast.Janet, 41, wore her support for The Rolling Stones on her football helmet t-shirt.
In the July 2 issue of OK! Magazine, Jermaine confirmed that Janet is currently in the studio recording a new [.]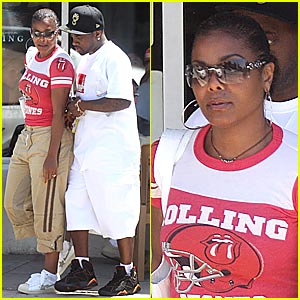 source.... (
Just Jared
)!!!
---
Janet leaving the Nightclub "Butter" in New York City
It was a crazy night at nightclub Butter last night with Ashton Kutcher, Demi Moore, Madonna, Janet Jackson, Shakira and Penelope Cruz all partying the night away together (All The Picx in our gallery)!!
---
27 June 2007 : "Bet Awards 2007"
Janet was Guest at the "Bet Awards"After Show Party with Jermaine Dupri Other Guests were
Ashanti, Nelly, Big Boi, Rihanna and Ne-yo. (All The Picx in our gallery)!!
---
21 June 2007 : A Family After New Album?

Celebrity Magazine OK! reports in the current issue that Jermaine Dupri looks forward to having kids with Janet.
"The rapper/producer says he doesn't foresee wedding bells as Janet has already been married twice, but will "definitely" have children, possibly by next year."
Jermaine also confirmed that Janet is currently working on a new studio album. "As soon as she finishes her new album. She started in June and she's working on it right now. Once the album and tours are done and all that's settled down, it'll happen somewhere around then." - CBB

---